The Glory Road TV Show LIVE is seen on Facebook LIVE. It is an educational interview program, where every week Dr. Candice interviews prophetic leaders and authors who are making a kingdom impact. Guests on the show have included Angela Greening, Katie Souza, Joan Hunter, Kathy DeGraw, Steve Shultz, Robert Hotchkin and others.
The Glory Road TV Show can be seen weekly on Faith USA at 1:30 PM on Mondays and Wednesdays. You can also watch it on Faith UK on Sky channel 594 at 1230pm on Tuesday and Saturdays – UK time, Faith Africa DSTV341 on Saturday at 3pm – Africa time! On this program, Dr. Candice operates in prophecy, bringing viewers a prophetic word backed by Scripture and teaching. You will learn what God is doing in the earth today and how to operate in miracles, healing, the glory, and supernatural encounters. You will also enjoy guest prophets and authors such as Kat Kerr, Steve Strang, Larry Sparks, James Goll, Karen Wheaton, and more.
Glory Road is also available on Livestream TV (lifestreamnetworks.com) and Kingdom Flame (KingdomFlame.com).
Watch past Glory Road programs on our YouTube Channel or to subscribe for notifications of when the show starts go to https://m.me/candicesmithyman.
It's Supernatural Network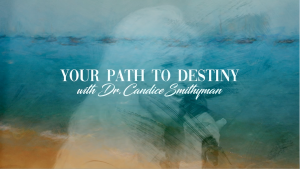 Join Dr. Candice on Sid Roth's Its Supernatural Network starting December 7th, 2020! Her new program Your Path To Destiny can be viewed on the ISN App and YouTube on Mondays at 8:30AM EST and 8:30PM EST. If you miss the weekly show at these times on Tuesdays simply just rewind on ISN Youtube and until Wednesday 8:29 am EST.
Some of her topics in Season 1 include:
Power over Addiction, Transformation of Your Soul, Overcoming Shame and Guilt, Preparation to Release the Glory, Activate Your Faith for Healing and Miracles, and more.
Dr. Candice Guest Interviews in Season 1 which airs December 2020- March 2021 include:
– Dec 15 and Dec 22 will be guest Apostle Joshua Fowler on The Power of Pausing in His Presence and The Grace for Pastoral Ministry
For Apostle Joshua Fowler book Pause in My Presence go to www.joshuafowler.com or order here.
– Jan 12 and Jan 19 with guest Pastor Siegfried Tomazsewski on Knowing Your Destiny and The Power of Healing in Evangelism
For Pastor Siegfried Tomazsewski book on Knowing Your Destiny go to www.callingministry.org or order here.
– Feb 16 and Feb 23 with guest Pastor Isik Abla on Victory Over Sexual Abuse and Soul Trauma and How to Protect Yourself from Enemy Attacks
For Pastor Isik Abla book on Cast Out Demons and Slay Your Giants go to www.isikabla.com or order here.
Subscribe to our mailing list