Celebration of Women  Unplugged Live Self Care Body, Soul, and Spirit event- Saturday May 21
May 21, 2022 @ 1:00 pm

-

4:00 pm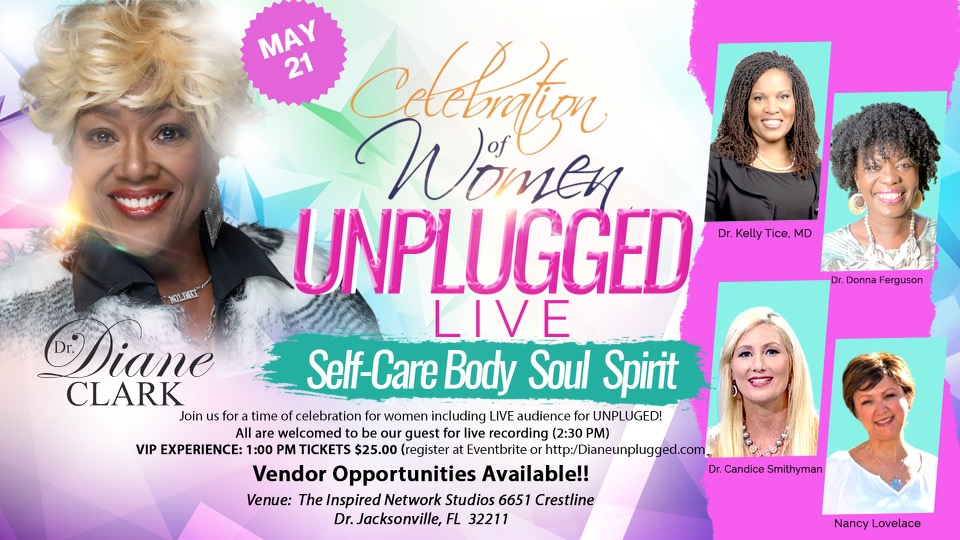 Join Dr. Candice, Dr. Kelly Trace,  Dr. Donna Ferguson, Nancy Lovelace  and  Host, Apostle Diane Clark  for the Celebration of Women  Unplugged Live Self Care Body, Soul, and Spirit event on Saturday May 21  at  1 pm.  Lunch and Vendors will be at event.
Click this link  to register and  buy tickets  at EventBrite for $25  for  LUNCH  and  LIVE TV taping at 2:30 pm.
https://www.eventbrite.com/e/celebration-of-women-unplugged-live-tickets-320460585237?ref=eios
Location:
The Inspired Network Studios
6651 Crestline Dr.
Jacksonville, FL  32211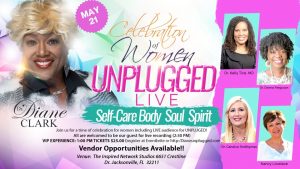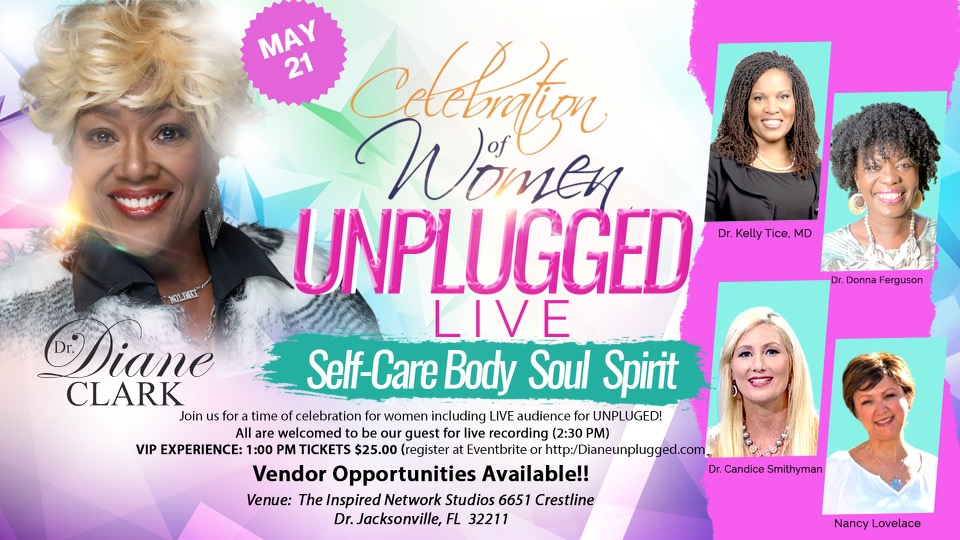 Self-Care is vital to the accomplishing women of our time for replenishment, encouragement and sustainability. YOU are that woman!
The onslaught of Covid and its aftermath has put a strain on our physical and emotional resources with rapid changes in our culture and lifestyles . Because of the demand placed on women, we often neglect ourselves to make sure that others are provided for. Celebration Of Women affords you a time of encouragement, refreshing and appreciation of who you are and how vital you are in every facet of life. Consider choosing The VIP Experience – 1:00 PM a delicious lunch, Free 15 minute consultation with Dr. Diane Clark, Free Gift and deeply discounted opportunity to attend an upcoming course. Of course if you rather just participate in the UNPLUGGED Live, feel free to join us at 2:30 PM as the program starts promptly at 3:00 PM Expect an amazing time as we celebrate women.